YOU'VE GOT QUESTIONS?
WE'VE GOT YOU COVERED
Where is The Bowl located?
---
The Bowl @ Sugar Hill is located in Downtown Sugar Hill behind City Hall and less than 10 minutes from the Mall of Georgia. The physical address is 5039 West Broad St. Sugar Hill, Ga 30518. There's easy access to the Bowl from your major interstates: Via I-85 N (From Atlanta) Head northeast on I-85 N. Keep left at the fork to continue on I-985 N/Lanier Pkwy, follow signs for Gainesville. Via US-129 N (From Athens/UGA) Merge onto GA-10 Loop N/US-129 N. Via Hwy 400/US-19 S (From Dahlonega) Turn right onto US-19 S.
---
Where should I park?
---
There are several options for parking at this event. The primary parking will be across the street at Sugar Hill Church. A Police crossing guard will be stopping traffic at Hillcrest to allow people to cross the street. Parking is also available along Broad Street that runs in front of City Hall and also in the vacant lot on Church Street immediatly across from the Bowl. VIP parking, while available, will be in the parking deck immediately adjacent to City Hall where there will be some areas reserved for ADA parking.
---
Do I have to pay for parking?
---
No, we've got you covered. Parking is free at Purple Rhapsody and we have ample in safe locations.
---
Do I need to bring my own chair?
---
We've got you covered and a chair will be provided for you inside the Bowl, so if you want to avoid the hassel of bringing a chair, no problem. You are free to bring a chair if you wish to use in the lawn/plaza area where there will be no supplied chairs.
---
Can I bring my own food and drinks?
---
Please take advantage of the variety of food trucks and vendors that will be available. Purple Rhapsody is a great event for an even greater cause - scholarships, so we're asking you to not bring in food and drinks and patronize our vendors.
---
Will there be concessions?
---
Yes, there will be a variety of food trucks and vendors selling wine, beer and mixed drinks on site.
---
What happens if it rains?
---
This is an outdoor amphitheater and all shows are rain or shine. If there is inclement weather, please feel free to bring a rain poncho or umbrella (not so big as to obstruct viewing in the Bowl).
---
What if I bought a ticket and lost it or could not attend?
---
There are no refunds or exchanges available. The good news is that if you purchased your ticket from Purple Rhapsody.org, you can just find your email confirmation and present that at the gate. If you purchased a hard ticket and lost it or decide not to attend, we're unable to execute a refund.
---
Is the Bowl wheelchair accessible
---
Yes, the Bowl amphitheater is wheelchair accessible and offers ADA parking and seating. If you have questions or need assistance prior to attending Purple Rhapsody, please call us and allow us to work out the details for you.
---
Will I be able to see the stage from the lawn area?
---
There is no view of the stage and artists from the lawn/plaza area. This is a great area to people watch, visit vendors and mingle, but you won't be able to see inside the Bowl stage area.
---
What time do the gates open?
---
Gates will open promptly at 4:00 pm and the first artist hits the stage at 5:30 pm. You don't want to miss any of this year's artists, so be in the house when the excitement begins.
---
Is there assigned seating at the Bowl?
---
There is no specific seat number assigned to you, however, depending on the ticket level purchased, there are designated areas for VIP, Reserved Tables and General Admission. You may sit in any seat in those areas where you purchased. View the below seating chart to get an idea of the Bowl layout and your area or visit PurpleRhapsody.org.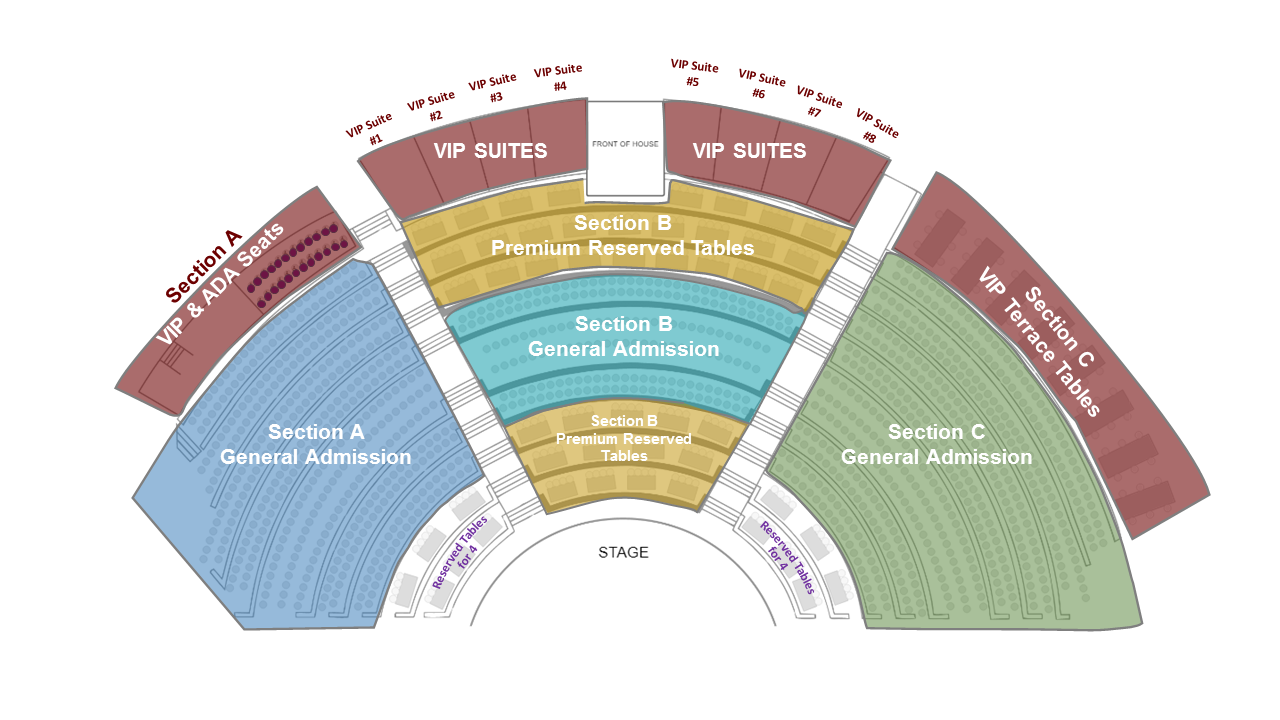 ---
What do I get with a VIP ticket purchase?
---
VIP suite holders will get complimentary dinner, a bottle for the suite from one of our signature beverage sponsors, VIP parking (limited quantity and first come-first served basis) and Purple Rhapsody SWAG to mark the occasion. Other VIP will get complimentary dinner with their premium seating and VIP parking (limited quantity and first come-first served basis).
---
Is smoking allowed in the Bowl?
---
For our cigar connoisseurs, the Bowl is a municipally owned venue and in accordance with the Georgia State Clean Air Act of 2005, smoking is not permitted in the Bowl. Smoking is only permitted in the designated smoking area behind the venue.
---
Hotels and local accomodation?
---
We are currently negotiating preferred rates with area hotels for those who want to make Purple Rhapsody a weekend outing or are visiting from other cities. Check back regularly for details and updates.
---
So what do I wear for Purple Rhapsody @ the Bowl?
---
Dress to impress or simply just do you! Purple Rhapsody is an upscale event and we're expecting the beautiful people to come out - ladies and men - and represent the style of event we're aiming for. Yes, it's all about the music because this is a concert event, but we love to see our customers showcasing their unique style and flair.
---
Are there ID or minimum age requirements to enter the event?
---
No, Purple Rhapsody is a family and community event for everyone. ID will only be required to purchase adult beverages.
---
---